We all love to travel to various places and capture daily lifestyles, cultures of different people in the world, in Sri Lanka people's cultures, lifestyles, the way they talk & occupations are different from province to province, so I always love to hunt their lifestyles and share them to the world through my lens. I don't know why I always get hyped when taking pictures of people or their life events, as it takes me to a different world.
Most of the times I am visiting the streets of Colombo in Sri Lanka to capture the lifestyles of the street vendors, labors etc., when I first visited the streets I was too afraid & shy to take photographs of the people , I felt I would get rejected or they would get mad at me for taking their pictures, but with time, experience and being with the street photography experts, I learned how to do it well and I have got so many good results out of it.
Tip 01 : Know that you are not doing a crime
When I first visited the streets I was so afraid to ask permission , so what I did was taking pictures from the behind of the person or whenever he/she looks away , this gave me so much stress as I couldn't get good shots of the real scenario. I am not aware of other countries but in my country taking a photo is not a crime, according to my researches there are no such law saying that one can't take photos of the people. According to the general street photography law you can take pictures in a public area, but if you are taking a closeup portrait of a person , it's always better to ask permission, personally even I don't like someone running towards me and pointing a camera without asking, so this gets me to the next tip >>>
Tip 02 : Ask for permission
It always better to ask permission mostly when you are tryna take a portrait of a person or else people in a private property (hotel, shop etc.) but as a disadvantage you will lose the opportunity to capture their natural behaviors or expressions. I have a 16mm – 50mm kit lens so I always have to reach the person to take a portrait shot, in this case I ask them first if they would like to get photographed. In Sri Lanka people are used to being photographed as it is a touristic country, even the local photography groups visit regularly to take photos in the streets and other areas.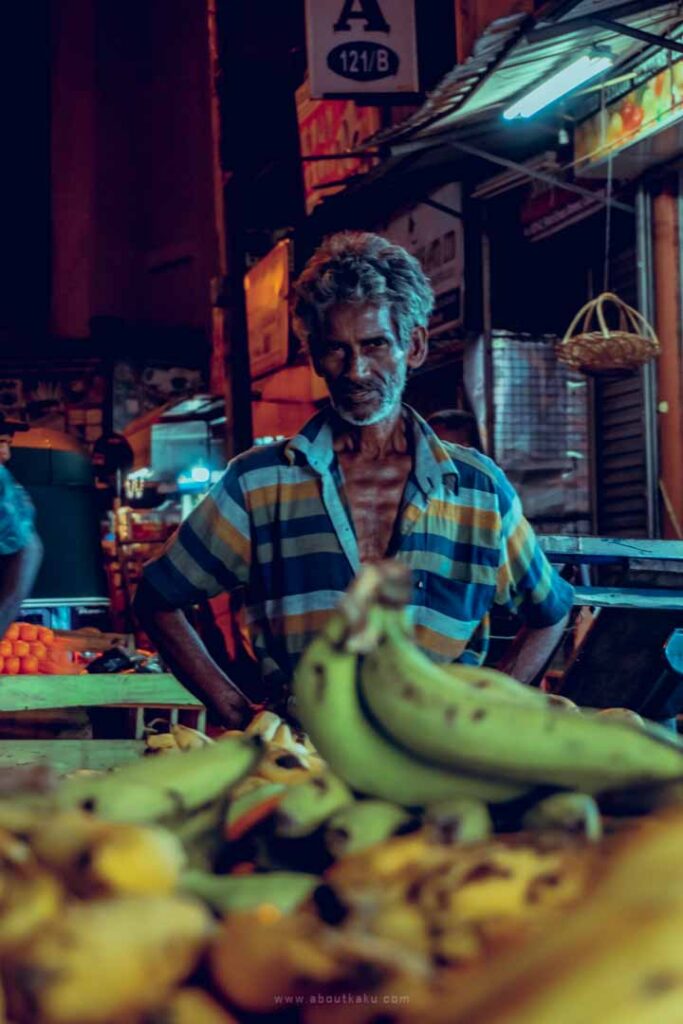 PS: Have a look at the cloth seller in the 2nd photo above, when I was walking along the pettah streets at night , I saw him and I thought this would make a great photo (and it did), but I first asked permission and he said "okay", he tried to pose for the photo and then I said "just do what you've been doing and be normal", so he just concentrated on his phone call and the photo came so well with his natural expressions.
Let's look at another example. Below image of a fish seller in Kamachchodi fish market, Negombo, was taken few weeks back, though I had experience , Kamachchodi was a new place for me as it was my first visit , so I first hesitated to ask for permission from him as his marks on the face made me to keep a step back 😉 , but anyways I asked him for a photo and he said "yes, go ahead", he was looking straight to the camera and I kindly asked him to look away.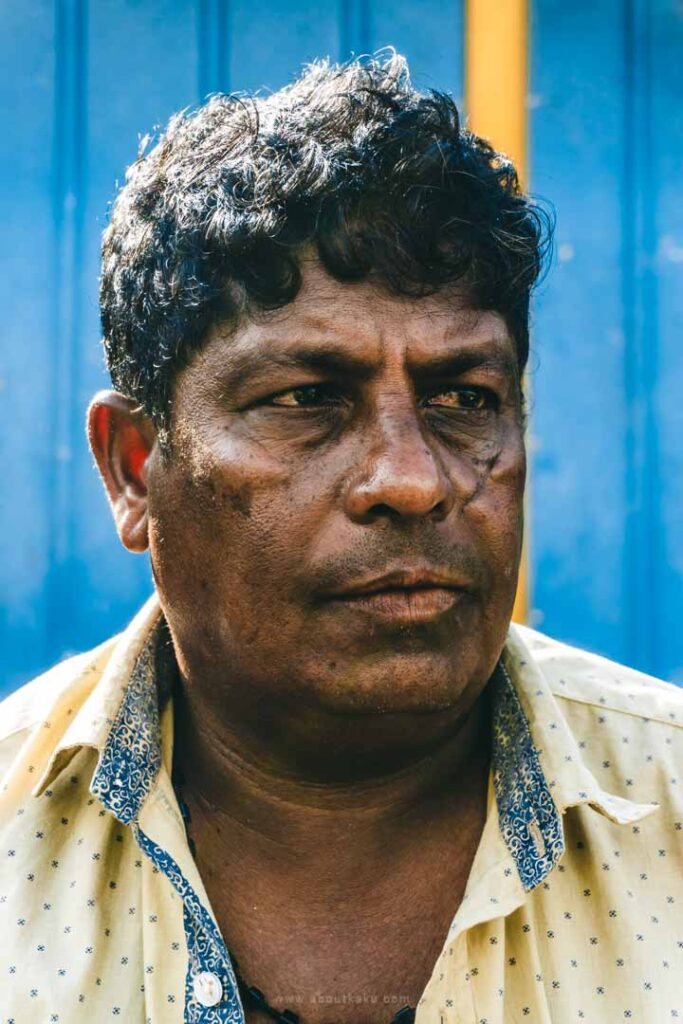 Tip 03 : Know the surroundings
Sometimes there are situations where you won't get the chance to ask for permission, specially when you want to capture the moment as it is, so first move around and get comfortable and pretend that you are taking the photos of the place or people generally , in a big space like streets no one can exactly say that you are pointing the camera at them and always make sure to not to act suspicious as you are doing a wrong thing.
You can take few photos and see if they react , if they don't really care what you are doing ,boom! go for it, some people would stare at you and then would mind their own business, so means they wouldn't mind taking pictures of them. Mostly when they are busy with their work they really have no time to ask questions from you, with that being said I would like to mention that DO NOT disturb their work, if they are really busy make sure to stay away from their working space and shoot.
Below are some of the images I took without permission, as they really didn't mind what I was doing. Few of them stared first and then they started doing what they've been busy with.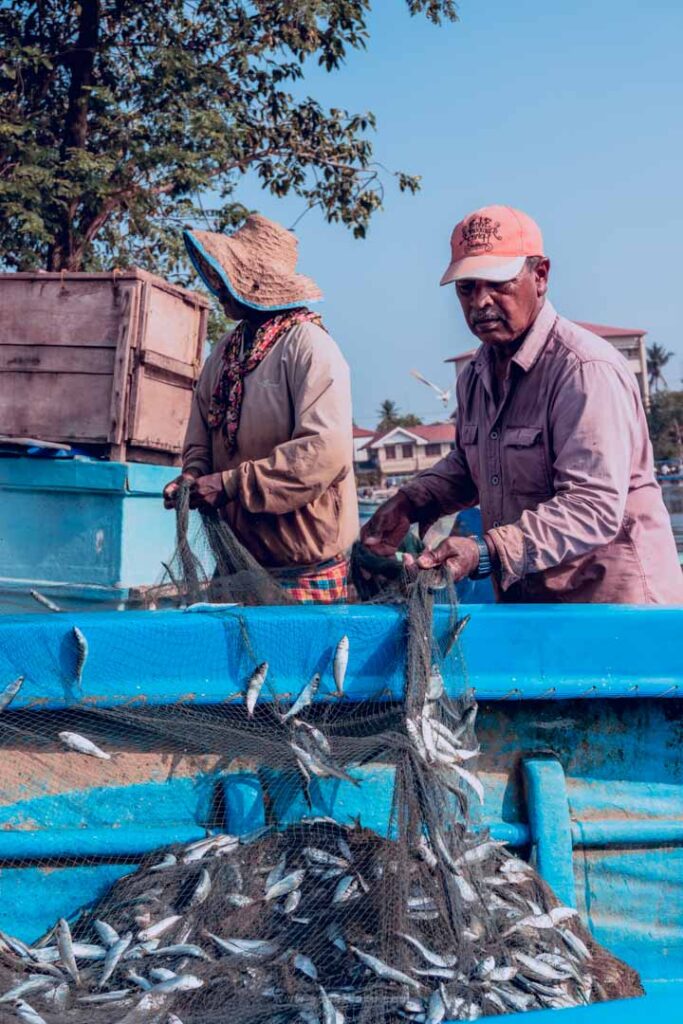 So what if they start asking questions ? that gets me to the next tip >>>
Tip 04 : Be confident and get used to "rejections"
One of my friend "Thisun" who is a street photography expert said "No matter even if people gonna beat you up, YOU GOTTA GET THAT SHOT". Always know that taking a photo for an assignment , for your Instagram or even for your own satisfaction is not a crime, so always be confident, If the people start asking questions make sure to answer them with confidence.
In the streets most of the street vendors & labors think that I am from a News channel, so they are afraid to appear in photos, that's a fear created by the News channels in Sri Lanka, I believe this must be the same for some other countries, to take that fear away and make them feel comfortable you can say things like," photography is my hobby", "I am doing this for an assignment", "I am doing a project of the lifestyles of street people".
Most of the times they get comfortable with me , also if they still won't believe you , you can show your Instagram, Facebook or website saying that you will be posting the picture only in those platforms.
Rejections do happen, so accept them, don't be afraid or shy to get rejected, be happy that you even gave it a try
BUT >>>
Tip 05 : "NO" is a "NO"
Do not annoy people , if they say "NO" ,take it as a "NO" and leave, also before you leave make sure to say "Thank you", even if they didn't corporate you, maybe that little act of kindness will change the person's mind 😉 .
During an evening at the streets a person asked me and my friend to not to take any photos of him, but I really didn't care much, after a while I took a photo from behind the person , but unfortunately he turned my side within snap seconds, he started scolding me , like a lot (haha), all I had to do was giving him a stupid smile. We actually can't read people, we don't know what they've been through the day, maybe they had a bad day, maybe they don't really like to be in a photo, so from that day I learned that "NO" is a real, big, fat "NO".
In Sri Lanka I met some people who asked money for taking photos of them , in this case you have to say "NO". (LOL)
Tip 06 : Be Smart
This street food seller didn't like me to take pictures of him, so I crossed the road and took pictures from a distance where he can't notice me, the second photo is the same food seller taken through a vehicle window on a different day. Being in the streets I learned to wait for the perfect moment, the moment that the person gets busy with his work or selling, the moment the person looks away and also I learned to shoot like a ninja, hidden in the shadows and fast 😉 .
Not even in street photography in other photography genres you have to wait for the perfect moment, also you should improve your skills to take a well composed shot within snap seconds. In the below picture the distance between me and the person was just 3 feet, but he didn't even notice me, as I was covered to a vehicle and was sitting, plus he actually was concentrating on the vehicle coming towards him, he had no space to push his cart forward, I took the shot while he was waiting there for few seconds.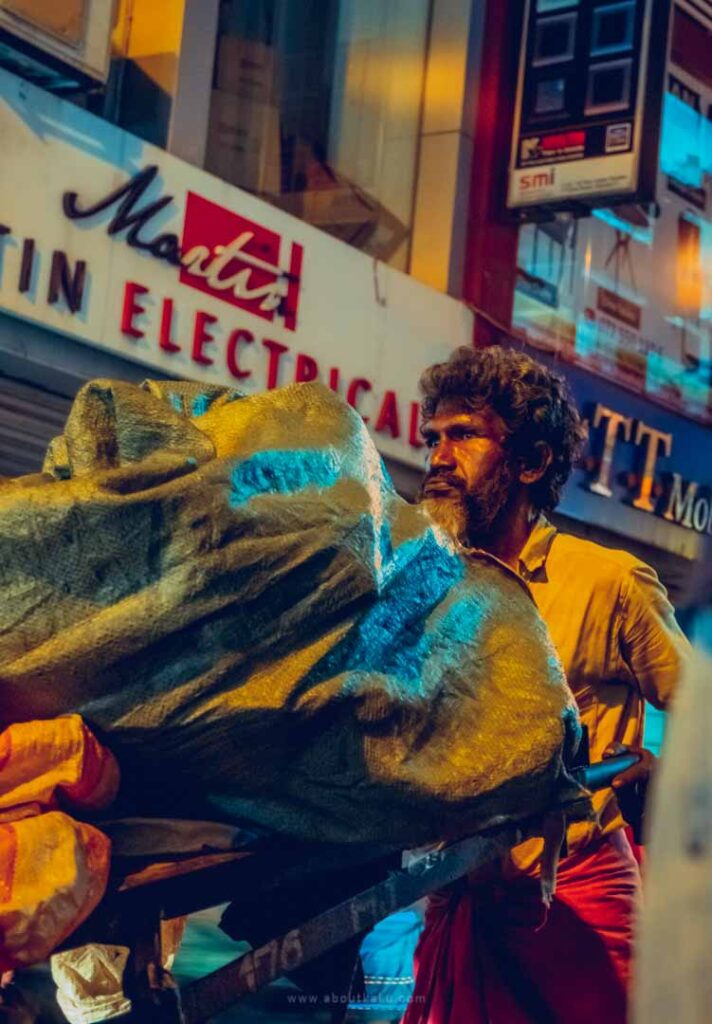 Tip 07 : Have that "smile" on your face
Smile , but smile with your heart genuinely, I always smile with people , even when I am not planning to take photos, I have got many chances to take photos of people that I didn't plan to take, just a simple smile and they ask me "Why aren't you gonna take photos of me ?", or they say "I would like you to take a photo of me", so bingo ! , you get a bonus.
Even when you take a photo without asking permission, if they notice, give him a smile and then you can ask for a photo, or else you can show him the photo you took, if he asks why you took a photo of him, go back and read "tip 04".
In the below image you will see the vendor notices me first and then when I asked he said "Okay".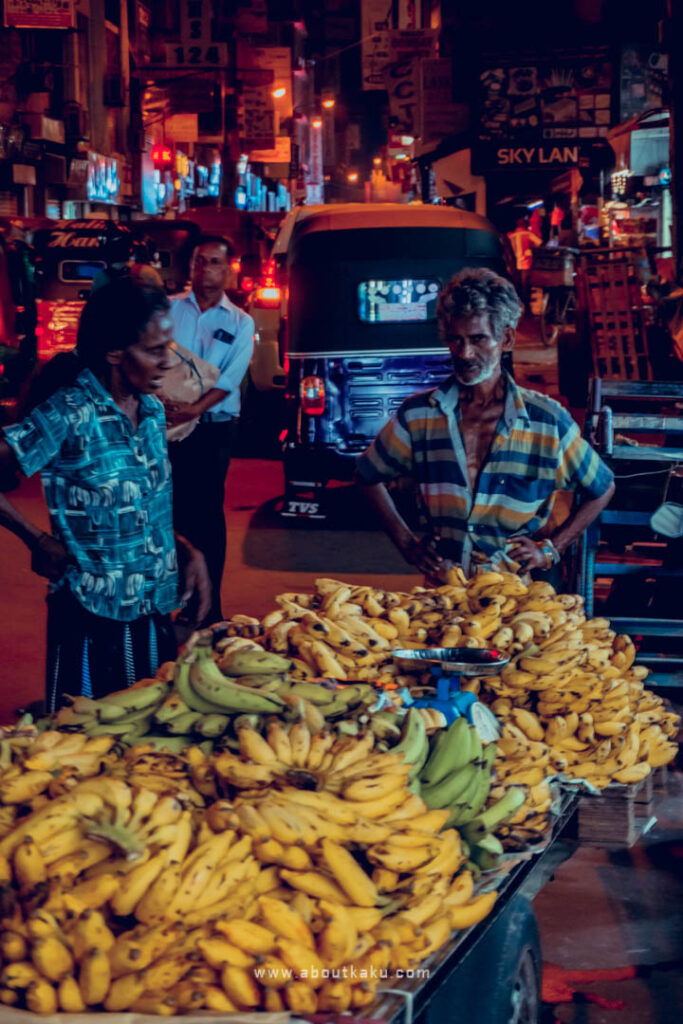 BUT
there are some moments where you shouldn't be smiling, this tip was learned from my photography course instructor, he said when in streets if you wanna take a pic of a person who walks towards you , take the photo and then either you can stare at your camera screen or look behind the person as you were capturing something else behind him/her, you should do this until the person pass by, he also mentioned not to smile at the person so he/she knows that you took a photo of him/her.
Tip 08 : Visit often and be familiar with the people
When you visit often to the same place people get familiar with your face, so it will be so easy for you to take photos, also try to get into conversations with people, so when you meet them again they will support you.
In the below photos the fruit seller became a good friend of me as I had few conversations with him whenever I visit the streets of Colombo, in the 2nd photo the chips seller was familiar with my face as I always take photos around his food cart, whenever I pass by the cart he greets me by nodding his head, so I take photos of him with more confidence.
If you are extremely shy, below two tips are for YOU
Tip 09 : Get a telephoto lens
Yeah yeah I know this sounds unfair, but believe me this works well, mostly with the people those who are extremely shy to approach people , you won't believe me if I said that I don't own a telephoto lens and I only have a 16mm-50mm kit lens with me, then why I am giving this tip ? because with a telephoto lens you can take pictures of people far from you without reaching close to them or without asking permissions & they even wouldn't know to whom exactly you are pointing the camera, this way you can capture real moments & natural expressions without unreal poses.
You can also use a prime lens, but in this case you won't be able to take shots that close to you.
Tip 10 : Go with groups or friends
It always better to go with groups or with one or two friends ,so you can be more confident. In this way you can take photos with or without asking permissions . When there is a group sometimes you don't have to do the talking, maybe your friend or maybe both can do the talking .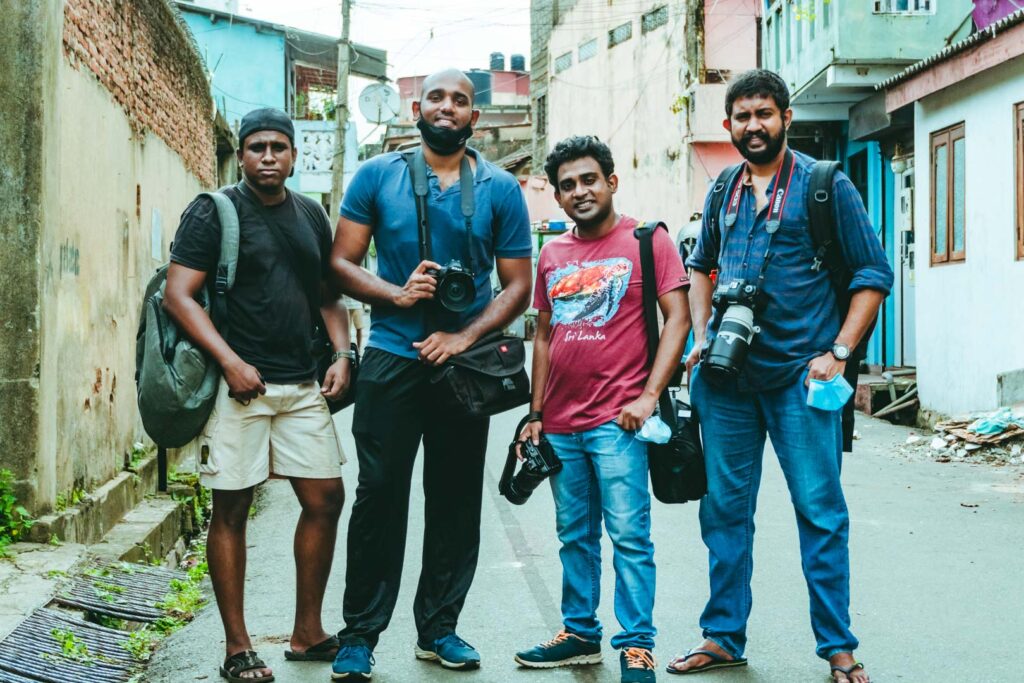 In my experience most of the times they talk more when we go as a group, sometimes they invite us to take photos of them, also most of the times we get tips on which day to come to shoot and sometimes they say there were other photography groups who had visited recently, which makes us more comfortable and confident.
Once in a while try to go with some street or people photography experts so you can learn and get more experience. There are communities as well, so you can be a member and join them.
Before I end the blog I would like to give another small tip as a Bonus , Make sure to show the photos you took of them, specially when you take portraits or when they notice you taking a pic. In the below image the welder could not believe his eyes and he was so happy to see him in the photo after I showed him. These kinda little things makes me happy and that drives me to keep doing it.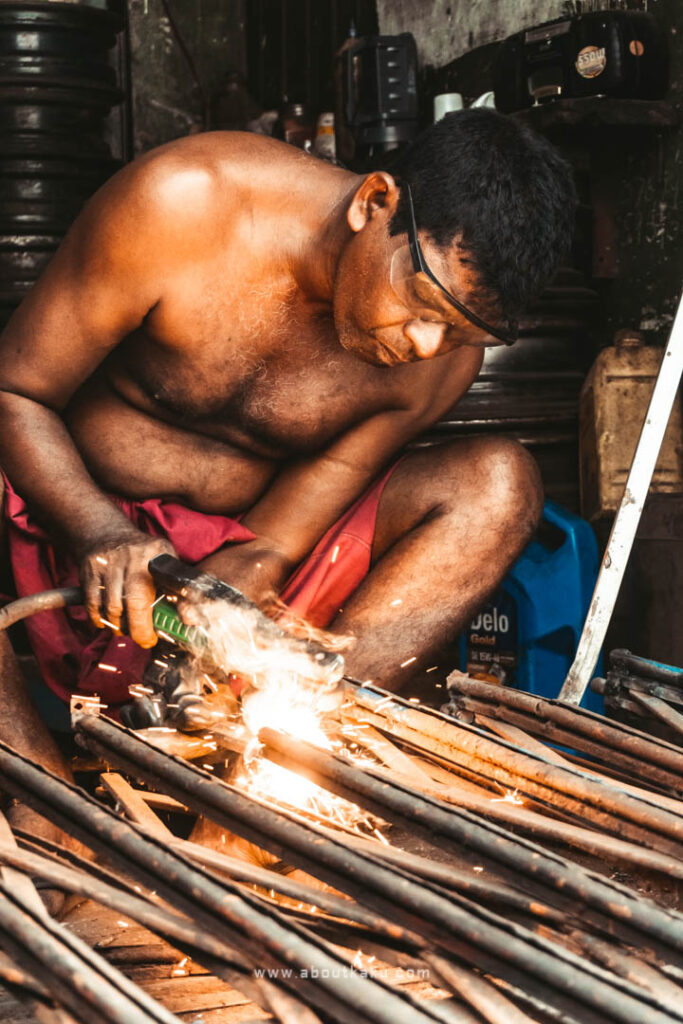 So guys these are the 10 tips to shoot and "Unknown person" in the streets or any other places. Mind that I wrote this with my experiences in the streets and other areas where I went to photograph the lives of Sri Lankan people. These tips might not work with you if you are living in a country where the people are not photo friendly and maybe in your country the situation might be different, maybe the people are so friendly that even you don't have to read this blog 😉 , as I've heard the most photo friendly country is India, so if you are going to India keep that in mind, But it always better to take permission if you are taking a closeup as I mentioned above and note that I experienced some difficulties and rejections because I am a Sri Lankan, but Sri Lankans are so friendly with foreigners , so they always cooperate and will pose as you say 😉 .
I really hope these tips will help you as much as they helped me. If you have further questions you can comment below or talk to me on Instagram or Facebook 🙂
Watch my street photography sessions here
Show some love and share with the world