Mirissa is one of the beautiful and a must visit destination in the southern coastal side of Sri Lanka, located 170km far from Colombo. Mirissa is rich with sky high palm trees, sandy beaches, waves to surf, turtles, dolphins and whales to watch. While keeping those topics to another blog , I am gonna talk about 03 epic places you MUST visit in Mirissa.
Secret beach
Thought it's not a secret anymore as many visitors come here , this is a beautiful tiny beach with a bay and is surrounded by a small green thicket. This is quite hard to find and harder to get as the road is not even and not well developed, which means it's fun 😉 .
To reach here you have to turn on to "Harbor road" from Mirissa junction and once you pass the harbor you will find few boards showing the way to the beach, this way is overlooked by the Mirissa harbor. By a vehicle you can only reach to the main point where the path starts and then you have to walk , but you can reach by bike until the beach.
On the left side of the beach you can see a hill with sky high palm trees similar to the coconut tree hill, Mirissa which is one of the above mentioned 03 attractions.
Secret Beach consists of three smaller beaches: Blue Lagoon, this is a rock pool right in front of the beach ,which is perfect for a lazy swim; Palm Cove, found on the left of Blue Lagoon is a wonderful snorkeling location and surrounded by a green thicket, a place where the jungle meets the sea.
Shelly Beach is made of a series of rock pools and even has a blowhole, but be careful when you go near the rock pools with your electronics as sometimes the waves can be rough enough to soak you.
Parrot rock
Parrot rock is a rock outcrop in the Mirissa beach overlooking the Mirissa coastal line, giving a 360 view of the surrounding area. Though the name is parrot rock you will be only seeing crows flying around this rock. Nevertheless if you climb to the top you will be awed by the view and also you can slowly go down under the rock and sit down on the boulders while enjoying the waves hitting on the rock and sea breeze kissing your face.
The less known fact is that the rock is more beautiful under the sea. This is also a wonderful place to do snorkeling and witness the marine life. Parrot Rock is surrounded by numerous small rocks which have now been overrun by coral, making for an incredible snorkeling experience.
Except snorkeling you can do surfing on the left side of the rock, swimming and also watch stilt/stick fishermen every now and then below the rock.
To reach the parrot rock from Mirissa beach is easy, but since this is so close to the shore during the high tide you have to be careful with the waves as it can get rough, so make sure to keep your electronics above your waist.
During off season time (raining season) it's advised not to go to the parrot rock 1)due to the water level 2)also the uneven steps to climb the rock can be slippery.
The fun fact is the area looks like buttocks from above if you take a drone shot and also it can be visible slightly on the top of the hill as the two sides of the rock are tiny bay areas.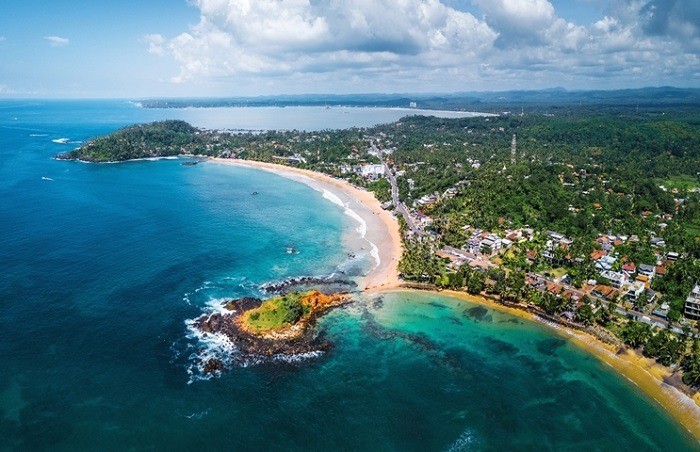 Coconut tree hill
Coconut Tree Hill is a beautiful hill perched into the Indian Ocean lined with sky high palm trees overlooking the Mirissa bay, Sri Lanka. This is one of the famous places among both locals and foreigners, also one of the most Instagrammed spots in Sri Lanka. This is now a bit ruined by a pillar fence due to a land problem occurred recently. This is actually a private land owned by a businessman, though it's open for visitors. Nevertheless you can still enjoy a beautiful view.
Like parrot rock , "coconut tree hill" also a perfect spot for snorkeling and surfing.
To reach the hill either you can come from the main road and climb the hill or you can walk along the beach, this walk would take around 10-15mins from parrot rock and during this walk you can also enjoy different spots to relax and take photos.
As a travel photographer I would highly recommend all three places for photography. During the season and off season all three places can get crowded, though both sunset and sunrise is beautiful at these places, I would recommend to go at sunrise, but as a photographer I believe you can find other compositions to avoid the crowd 😉
And definitely avoid going on weekend or public holidays as it can be over crowded by local people coming from Colombo and other areas.
I hope you enjoyed reading this blog and gathered some useful information. I would like to embed below a video of Mirissa I found on YouTube recorded from a drone. ENJOY !!
~Kaku
Show some love and share with the world