Dambulla is a UNESCO World Heritage site located 149 km away from Colombo. There are many things you can do in Dambulla from visiting ancient places to rural village visits , but today I am only gonna talk about Dambulla Uyanwatta Temple and Dambulla Cave complex.
History ,features & the importance :
Construction on This golden seated Buddha statue in Dambulla Uyanwatta temple AKA Golden Temple began in 1998 and was completed in 2001. It was made with concrete and bricks and then plated with gold. The Buddha is in the "Dhamma Chakka" or "Wheel of Law" posture. It is the largest Buddha in the world in this position.
This Uyanwatta temple is located in front of the Dambulla Cave complex, you can use the hill path on the left side of the golden temple with steep steps to reach the cave complex with no shades. End of this path provides a panoramic view of the surrounding landscapes.
Dambulla cave complex is the largest and best – preserved edifice in Sri Lanka, located on the main road from Sigiriya to Kandy road, about 19 km from Sigiriya Rock Fortress. Dambulla Cave temple is declared as a UNESCO World Heritage site in 1991,also listed as one of the top 10 sacred caves in the world by National Geographic. There are over 80 caves and the main attractions spread over 05 caves. These caves contain Gautama Buddha's statues and paintings related to his early life. Moreover, there are statues of God and goddesses' , Kings statues who added improvements to the caves and restored. The paintings of this cave are the oldest remaining paintings in Sri Lanka & they spread over 2,044 square meters and three quarters of it on the rock ceiling. Caves are built at the base of a rock which is 150m in height. Some of the caves have been used by the monks for meditation before King Valagamba converted the caves into a temple.
The King Valagamba of Anuradhapura Kingdom believed to have seek refuge here from South Indian invaders for 15 years, after regaining his capital he built a temple in thankful worship. Many kings added improvements to the caves in 11th and 12th centuries. In 1190 King Nissankamalla from Polonnaruwa kingdom added 70 buddha statues and the latest paintings are of the late 18- century during the era of Kingdom of Kandy. Statues of King Vattagamini Abhaya and Nissankamalla are indicated by a stone inscription near the monastery entrance.
The largest cave is about 52m from east to west, 23m from the entrance to back and 7m tall at the highest point and this is one of the largest Buddhist cave shrines in the world.
It is also believed prehistoric Sri Lankans would have lived in these cave complexes before the arrival of Buddhism in Sri Lanka as there are burial sites with human skeletons about 2700 years old in this area, at Ibbankatuwa near the Dambulla cave complexes.
Travel tips for visitors :
When you are visiting these ancient Buddhist places make sure to cover your shoulders , arms and knees, plus you have to remove shoes and caps/hats. There is no entrance ticket for locals, but there is an entrance ticket for foreigners which cost around $10,tickets can only be purchased from the main entrance, which is The Golden temple entrance, it is easy to spot since the golden temple and the buddha statue is visible to the main road. There are 04 entrances to the cave, so irrespective of which entrances you choose, you first have to buy the tickets from entrance 01. I have only used entrance 01 and 03,entrance 03 is the shortest & more suitable for mobility limited visitors. According to the book "Sigiriya and Beyond", entrance 02 is the whale back climb entrance which is a more peaceful entrance & entrance 04 is the ancient entrance since pre-Christian times. I am looking forward to use these entrance in the future as there are historically important places to observe.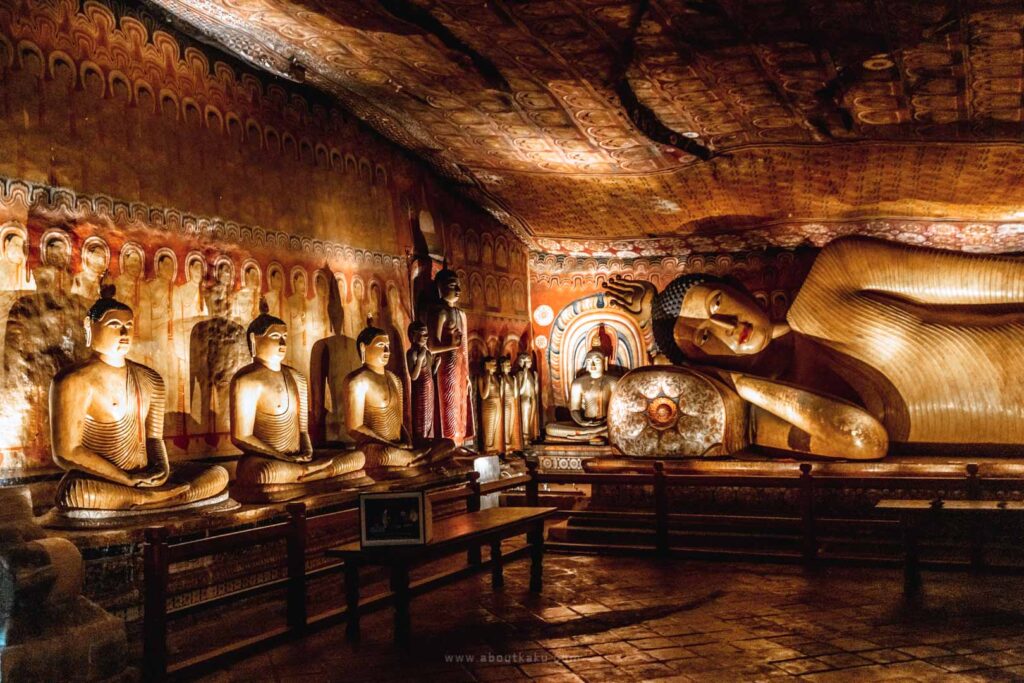 You will have to provide extra LKR.25 to LKR.50 for the shoe keeper. Another important thing is make sure to not do flash photography inside the cave since the paintings of the cave is sensitive to flashes,but existing spot lights gives an opportunity to take creative photos.
The upper entrance is open from 7.00am to 7.00pm and the inner doors of main shrines are closed every morning between 10.30am to 10.45am to do rituals for Buddha. The Hindu temple inside cave 01 is open on Wednesday & Saturdays and gets crowded with devotees. The site is crowded during school holidays and Poya days.
How to reach :
To reach this place you can use the bus which goes straight to Trincomalee from Colombo(Bus number : 49), but due to Corona virus it's not allowed for tourists to use any public transportation , so the best way is to rent a car , only for the drop it will cost you around $70 – $80, if you buy a 5 days or above tour packages, it will roughly cost you $50 to $55 per day.
Accommodation :
There are plenty of budget and luxury accommodations in Dambulla. We stayed at Sigiriana Resort by Thilanka.
This is a luxurious hotel with a outdoor pool, the sunset and the sunrise at the rice field by the pool is absolutely gorgeous. You can also witness farmers harvesting rice. Hotel restaurant located near the pool ,so you can have a good breakfast with a pleasant morning view. You also will notice numerous parrots, spotted doves and some other birds which visit to eat the rice grains.
The hotel is surrounded with mango trees and other plantations. Walk in the path behind the hotel which leads to a farm rich with different vegetables, if you walk more towards the shady woods you can see "Dambulla lake", when you walk in the morning or in the evening make sure to step very carefully as there are cobra nests besides the walking path, also do not try to swim in the lake as the stream current is strong and the lake is deep.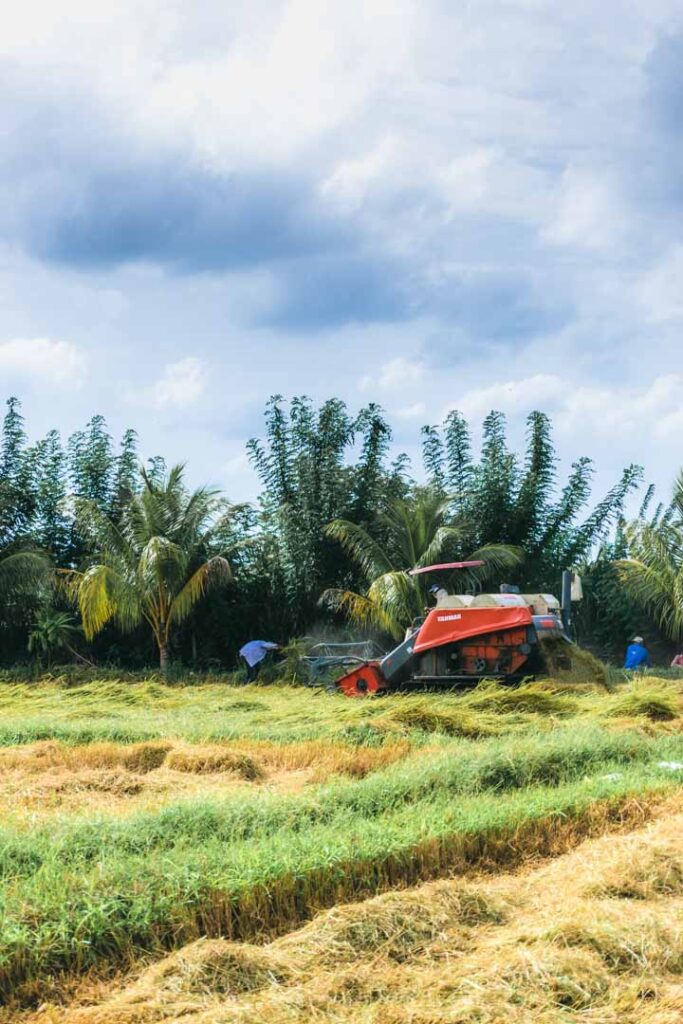 Sigiriana Resort by Thilanka rooms feature colorful murals and private balconies with views of the surrounding greenery. Each room has a DVD player, safety deposit box , free coffee/tea & free WIFI. The bathroom is fitted with a spa bathtub. The resort also offers airport shuttles and free parking space for their guests.
Ayurvedic spa, Yoga, steam baths are some of the body & mind relaxing facilities offers to the guests for a reasonable price. For activities you can do trekking, fishing, nature walk, cycling , tennis, volleyball etc. The resort also arrange a safari to Minneriya and the Pidurangala Rock on an additional charge.
Sigiriana Resort by Thilanka is a 25-minute walk from Dambulla Cave Temple and a 30-minute drive from Sigiriya Rock.180 km away from Bandaranaike International Airport is. From there, guests can take a 45-minute seaplane to Dambulla.
If you would like to know more information about anything, feel free to talk to me through whatsapp, emails or Instagram and guess what a new vlog is coming soon about Dambulla, Stay tuned 🙂
Show some love and share with the world